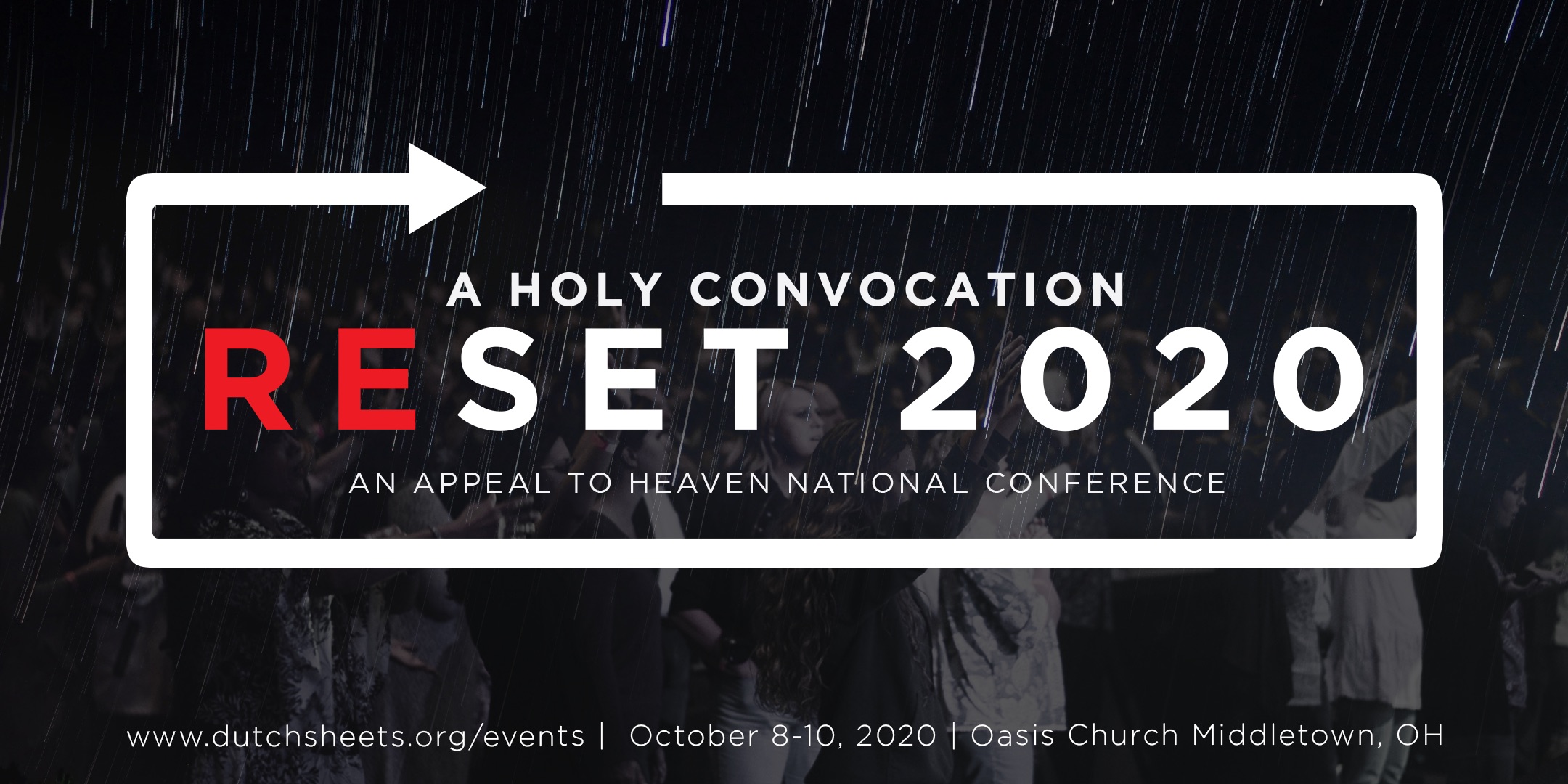 A Holy Convocation: Reset 2020
In 2018, Holy Spirit gave one of my trusted prophetic friends a significant dream, in which President Trump invited a small team (of which I was a part), to the White House. POTUS thanked me (Dutch) for the Appeal to Heaven prayer movement and presented me with a new Appeal to Heaven flag. He then prayed the following prayer: "Lord, let this man and these leaders convene a holy convocation that I might finish my eight years well, and the ancient markers of our founding fathers be restored."

I knew the dream was from God and have waited for His timing to convene this historic gathering; I believe the appointed time is this October. Therefore, on October 8-10, I'll be hosting a holy convocation in Middletown, Ohio, in order to fulfill this request. We're calling it Reset 2020. During these times, I know I don't have to belabor how urgent this is.

In another powerful dream recently sent to me, President Trump was alone in a small boat making his way upstream to the headwaters of the Allegheny River. On his arduous journey, POTUS was greatly opposed. He eventually reached his destination, however, because the Ekklesia (Christ's governing church) and the cloud of witnesses were along the banks covering him with prayer. Once the President reached the headwaters, he began releasing decrees stating that America will "complete her course and finish well."

God is not finished with America—not even close! Nor is He finished with President Trump. For America to return to her ancient markers and finish well, however, the Ekklesia must arise and prevail. No other force, strategy, or group can enable America's reset; only Christ's authority, released from His Church, can restore our nation. In a battle of the ages, all hell is opposing this, as can clearly be seen by the current anger, senseless violence and vitriolic hate in our land. I'm confident, however, that a willing remnant of the Ekklesia is arising, which the gates of hell cannot prevail against.

In still another recent dream pertaining to America's great reset, the cover of a Time magazine was shown. The cover of the magazine read: "Millions baptized into their inheritances. The Spirit of adoption is now on America."  I believe Holy Spirit's choice of this particular publication (Time) was to reveal that it is, indeed, time for a historical outpouring. A Third Great Awakening is coming quickly—we must respond in faith and take action!

Join me, October 8-10, as we take our place in history and turn the tide for this great nation. You may register HERE or go to our website: http://www.dutchsheets.org.

See you in Ohio.

Dutch Sheets